Looking to increase your underwater visibility while you snorkel of scuba dive? We recommend having your prescription optical Dive or Snorkeling Mask made by Captree Eye Care. View the underwater color and beauty you are diving to see. We can either provide a new Tusa Liberator Plus Clear Dive Mask shown below or have the prescription added to your current mask. Any Rx fitted to any dive mask for full clear vision. Please call (631) 587-2020 to order you new Prescription Dive Mask today.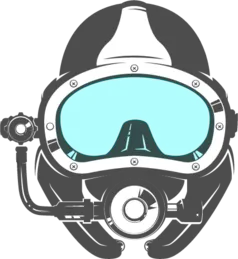 Light behaves differently in water than in air, distorting what you see. When you're swimming or diving, objects appear larger and closer than they actually are which can hamper your hand-eye coordination.
If you wear prescription eyewear because you're nearsighted, farsighted or have astigmatism, you also will need corrective lenses to see clearly underwater. However your prescription may need to be changed, because the distance between the lens of your goggles or diving mask and your eyes is different from the distance between your eyeglasses lenses and your eyes. Wearing prescription swim goggles means you don't have to swim with blurry vision and you don't have to risk losing your contacts or getting eye infections from waterborne microorganisms.
Our Prescription Dive Mask Price List Includes most astigmatism corrections.
Have Questions?
Please call us at (631) 587-2020.


Prescription Dive Mask Pricing
| | |
| --- | --- |
| Nearsighted Standard up to 4 sphere 2 Cyl | $249 & up |
| Farsighted Standard up to +3 sphere 2.5 Cyl | $299 & up |
| Bifocals ( - ) | $369 & up |
| Bifocals ( + ) | $399 & up |
| Near Vision Readers for Gauges | $289 & up |
| Cut Off | $45 |
Tusa Liberator Plus Dive Mask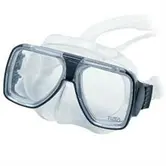 The Tusa Liberator Plus Clear Dive Mask is often the first choice of many divers offering comfort and features to suit most faces and diving styles.
The Liberator Plus blends high performance with high fashion. Lenses are carefully crafted to provide optical clarity and the crystal silicone skirt assures a precise comfortable fit. Like all TUSA masks, it incorporates a wide range of features to enhance comfort and provide clarity of vision.
The Tusa Liberator Plus Clear Dive Mask is available for $69.
Have Questions?
Please call us at (631) 587-2020.