When it comes to hunting or just simply spending your day at the shooting range, there are many safety precautions that need to be considered and protective eyewear is definitely on the top of that list. There are many reasons why proper eyewear should be worn at all times when operating firearms such as simple eye protection. Hunters are always at risk from getting accidently hit by a ricochet, cartridges that are ejected from the firearm, and even excessive powder that can blow back into your eyes. Of course proper shooting glasses can also protect your eyes from other hazards when firearms are not in use such as twigs branches, leaves, dust, solvents from the firearm itself when cleaning etc.
Flawless optics, performance and durability are essential in the shooting sports. Having the correct prescription shooting glasses is also essential. For 20 years the Ranger shooting line has been the leading choice for pro competitors who take their vision seriously. Randolph continually works with the best opticians in the industry to maintain their unmatched performance and optical precision. Captree Eye Care offers both Prescription Shooting Glasses and Non Prescription Shooting Glasses (Plano Lenses) for trap, skeet, sporting clays, target and overall Safety Shooting Glasses.
Ranger shooting glasses have been trusted and recommended by gold-medal athletes, expert opticians, and friends since 1992.
Ranger Classic
As our first shooting frame, the Ranger set the standard for safety, comfort, and target enhancement. Its lightweight, high-tech alloy frame with dual-action spring temples is made for all day comfort and maximum durability.
lifetime solder joint warranty
reduced distance between lenses
adjustable nose pad arms for a custom fit
interchangeable NexPC lenses
offset nose pads to prevent fogging
cable temples with comfort fit covers
Ranger XLW Frame
This is serious style for serious shooters. Designed from the ground up by our team of experienced optical engineers, the XLW is the industry's first 8-base wrap frame specifically made for sport shooting. While some wrap eyewear may distort your vision, XLW lenses are always 100% distortion free.
lifetime solder joint warranty
adjustable nose bridge and arms for a custom fit
interchangeable NexPC lenses
offset nose pads to prevent fogging
100% UV Protection
Rx / Prescription Inserts Sold Separately
Ranger Edge
Co-Designed by the shooting industry's top opticians, the Edge combines a sleek design with professional optical performance.
lifetime solder joint warranty
reduced distance between lenses
adjustable nose bridge and arms for a custom fit
interchangeable NexPC lenses
angular lenses to prevent fogging
Ranger Sporter
Designed to accommodate all Ranger Lenses and nearly any prescription, the Sporter features a full frame with optional clip-ons. This rugged, yet practical frame is excellent for shooting and other outdoor sports or as an everyday pair of prescription glasses.
lifetime solder joint warranty
adjustable nose pad arms for a custom fit
interchangeable NexPC clip-on lenses sold separately
offset nose pads to prevent fogging
Have Questions?
Please call us at (631) 587-2020.
Ranger Plano Prices
Ranger Plano Prices:
Classic
Sporter
Edge
XLW
XLW Rx Insert
Sporter Clip On
Frames
$169
$189
$199
$199
$79
Standard Ranger Lenses

$69/$229
-
$69/$229
$69/$229
-
$189/$269
*Designer Frame Colors $10.00 additional
*Shipping $18.99
Ranger RX Lenses
Single Vision Poly $150.00
Bifocal Poly $190.00
Includes most colors and most prescriptions. Additional charge for High Powers, transitions, CMT, Polarization,
Anti-Reflective Coatings etc.
Please call for availability and prices on our other specialty lenses: Rx / Prescription Lenses, A/R Coating, Polarized Lenses, Transitions and Polycarbonate Standard Power ± 4.00 Sphere and 2.50 Cylinder
Lenses
NexPC™ Lens Technology NexPC is 5-6 times more impact resistant than standard polycarbonate with the same professional grade optics. Intrinsic material properties flex to absorb the force of projectiles before they reach your eye. During everyday use they remain 100% distortion free and scratch resistant.
Standard Ranger Lenses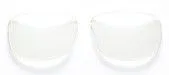 Pale Yellow (48) – Brightens and contrasts colors in low light conditions. Excellent lens for hunting or target shooting at dusk, dawn, or evening under lights. LT-90.72%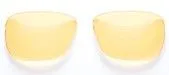 Medium Yellow (52) – Highlights orange clay targets and enhances contrast in low light or overcast conditions. Our most popular yellow tint. LT-83.69%
Orange (45) – Excellent all around lens for orange clay targets. Blocks haze and blue light, and enhances the orange of the target. LT-71.33%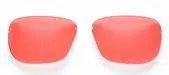 Vermilion (46) – Terrific lens for shooting against green backgrounds. Works well for those with red-green color deficiency. Highlights orange and dampens green. LT- 41.41%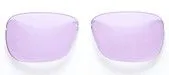 Light Purple (47) – Provides excellent contrast of orange targets against green background or sky. It dampens the green and enhances the orange target against trees. LT- 61.67%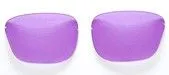 Dark Purple (51) – A great lens for very bright conditions. Provides contrast of orange targets against a deep blue sky. An excellent lens for glare reduction and snow. LT-30.33%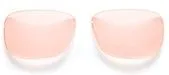 HD Light (59) – Offers the same clarity and crisp target view as the HD lens, however goes a step beyond giving the shooter a flawless edge in dimmer light conditions by cutting through haze and reducing stress on the eye with a very subtle yet effective tint.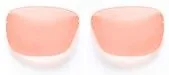 HD (58) – Offers incredibly crisp, clear vision by incorporating precise technology that filters out blue light to increase contrast while perfectly targeting the shooter's mark. This lens is the expert choice for medium light conditions.
Premium Ranger Lenses
Copper Polarized (55) – This lens blocks undesirable blue light while improving contrast in other colors. Excellent for shooting targets against a green background on a bright day. Also great for sight fishing. LT-12%
ColorMag(tm) (53) – Intensifies orange targets against any background. See up to 250% more orange light than a standard lens without affecting other colors. LT-18.50%
Have Questions?
Please call us at (631) 587-2020.